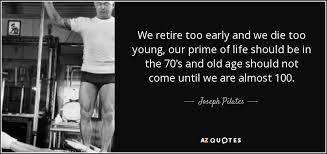 You know what moves me to help people in my line of work as a Pilates instructor?
When someone believes they "can't do it". Can't move. Can't walk. Can't do the things they used to. Can't be functional. Can't sit cross legged on the floor with their grandchildren.
I once had a girl hire me to help her make it on the Laker Girls… that was fun…she wanted a smaller waist and a more round bootie. It happened. : )
…but the woman in her 70s losing confidence daily in herself because she has lost functional movement, or has lost the balance she once had or can't do the physical activities that once brought her joy?…THIS is what moves me. She will get that confidence back. Nothing a little Pilates can't cure. : )
Growing older is not a death sentence…it is a chance to blow people's mind at what you can STILL do…or what you will begin to learn!
Lolita San Miguel, one of only two people in the world that was personally certified by Joseph Pilates as a Pilates instructor taught me this early on in my career. With bright red lipstick on her lips and gold bangles on her wrist….blowing us all away. Teaser after Teaser. At seventy something.
We could barely keep up. At twenty and thirty something years old we all could only aspire to be like her. At seventy something.
So to all of you women (and men) out there that think Pilates is just for "young people"…it is for you, and you, and you.
ALL of you. All ages. All stages.
<3 Rebecca ~ KÔR Pilates Founder
#pilates4everyone #korpilates #kindnessmatters #bekindtoyourbody#ALLagesALLstages
Yes, that's right.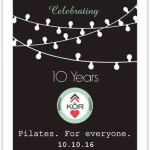 FREE Pilates this October.
Get yours. 
And share with a friend.
Look for the classes that say *FREE* and SIGN UP! It's that easy. : )
http://www.korstudios.com/class-schedule/
*No strings attached but we would love it if you SHARE this post or LIKE our FB page or CHECK-IN at KÔR. We look forward to having you visit our studio soon. ♡♡♡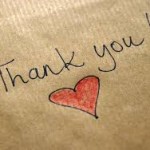 Today. 
10 years ago is when it all started.
One room. One reformer. 
Thank you ALL for making this happen. We couldn't have done without you.